There's always 'that' day, every Grand Tour. Sometimes, in tough years, there are more than one. Days when it's hard to think about turning on the TV the following day; when you just need a break.
Today was the first of these days of this Tour de France - it would be nice to think it will be the only one. A day when the race lost a legend, and as a collective, we were robbed of the potential for the biggest global celebration, one which was well within reach.
Mark Cavendish crashed and was forced to abandon the Tour de France. The race of his heart; the place where he shone brighter than anywhere else; his reason for pushing on, season after season, through so many setbacks and issues, both physical and mental.
There will be hyperbole. But sometimes it's warranted. Sure, the man has his detractors, is short-tempered on occasion and bullish frequently, but he's also a friend to many, big-hearted, and searingly passionate about this sport we all love. You'd have to look really hard to find a reason not to want him to win just one more stage. Yesterday, on stage 7, he came so very close, robbed of the chance to commit fully to his final sprint by an issue with his chain - second to Jasper Philipsen.
The romantics among us imagined perhaps he'd leave it until the final possible moment, and storm to glory one more time on the Champs-Elysee, just like he did at the Giro d'Italia earlier in the year - the perfect end to the story, though the waiting would have been agonising.
No such luck. The story reaches an early and wholly unsatisfying conclusion, like an unerringly black, finite full stop rammed into the middle of a sentence. No denouement for the man himself, nor for the cycling faithful who were willing him to victory from all corners of the globe. Just, the end.
No doubt he will be pragmatic, because that's the nature of the guy. He'll give a philosophical interview and it will all be OK because he'll make it OK. It's not as if he's going anywhere - I would be shocked if we didn't see Mark Cavendish working as a DS, a TV pundit, or just taking part in rides for charity - his presence, his impact, and his character are woven indelibly into the sport like a tattoo. We won't get rid of him that easily.
For now though, it hurts. It's allowed to hurt. If it didn't, it would mean we didn't care that much. But cycling cares about Mark Cavendish in the same way he cares about cycling. Today's winner Mads Pedersen spoke eloquently about a 'legend' of the sport and how it was a pleasure and an honour to ride with him. Fred Wright, a little less eloquent but perhaps summing up what the majority of us thought, when an interviewer surprised him with the news post-race. He turned away from the camera and audibly muttered 'for fucks sake.' A pretty fitting response, all told.
In the end, it changes nothing. Though we were hoping for 35, when you think about it, number 31 was a bonus, when it seemed as though he wouldn't even race another Tour de France. Then we were treated to 32, 33 and 34, as 2021 became Mark Cavendish's phoenix era. Today I'll be remembering those wins, and the incredible legacy he will leave when he finally hangs up his bike at the end of this season. A true, bona fide legend.
Let's move on and bring you some content to hopefully reinvigorate your mood after a difficult day. Check it out.
🚴
We are working hard to keep you all entertained and informed, and we really hope you enjoy what you read. If you'd like to support the site at any point you can
buy us a coffee
, head to the
writebikerepeat.com shop
to have a browse and pick up an item or two, or
subscribe
as a free or paying member of the writebikerepeat crew. We'd love to have you on board.
LE MENU
PRÉPAREZ VOS MUSETTES!
def: prepare your musettes!
Cuisine du Jour
Stage 9 – Saint-Léonard-de-Noblat – Puy de Dome (182.4km, mountain)
Let the chaos (re)commence!
Yes we've had two flat stages, it's the final day before rest day, so it's time to pull the gloves off once more, and Stage 9's parcours is set to rip the peloton to shreds. Expect a full-blooded fight for the breakaway, plenty of GC shenanigans, and a La Planche des Belles Filles-style finale - with the last 4.5km averaging 12% - yes, you read that correctly.
It's a shame the local specialities don't include something spiky and unforgiving, like, I don't know, the French version of a tortilla chip, but alas, such is life.
What they do include is cheese, and lots of it. But which one to choose? I've gone for a cheese so local to today's stage, it's literally made in Puy-de-Dôme - the delicé du forez. Why this cheese? Well, it's said that its aromas are 'reminiscent of hay and barnyards' and given the similarity of the final climb to Thibaut Pinot's 'home' climb of La Planche, I'm hoping that these familiar scents can tempt the French icon out of his hiding place in the pack, and into some attacking. The texture of the cheese is described as 'semi-soft and open' which is as close a match to the man himself as you'll get, as far as descriptions of dairy products go. So - Pinot day? Pretty please cycling gods? You owe us bigtime, after today's misadventures...
(The cheese is also said to have 'irregular eyes' but unless I make a clunky remark about the way Geraint Thomas looked after switching away from his trademark white Oakleys for this season, I think that's a comparison too far!)
APRÈS L'EFFORT, LE RÉCONFORT
def: after the effort, the comfort
Taking a sideways look back at the day's action, to reflect, reconcile and remember.
Speedy Stage Takeaway
How to sum up today's stage briefly? Speed, heartbreak, teamwork, power.
Lest we focus our sorrow too narrowly in Cav's direction, it's important to mention we lost another rider from the race today after a crash in the final 5km brought down a few riders - the most significantly affected was Steff Cras of TotalEnergies who was forced to retire from the race with a broken collarbone. He later took to Twitter to vent his frustrations as apparently it was a fan stepping out into the road that caused the incident:
It was a fast and furious day, with an average speed of 47km/h which I'm told is pretty darn fast as averages go, and the final sprint to the line was one of those that looks so hard you almost feel the pain vicariously through the TV. The display of power from all the riders contesting that final was something to behold.
In Anna's absence, I've taken the reins for today's emoji recap. She is the master of capturing all of the key moments, I have been somewhat more frugal and it goes like this:
I'd like a word
STAGE 8: Flying peloton; Manx Missile heartbreak; rampant Dane Victorious
or..
NO, NO, NO, NO, NO, NO, NO. NO!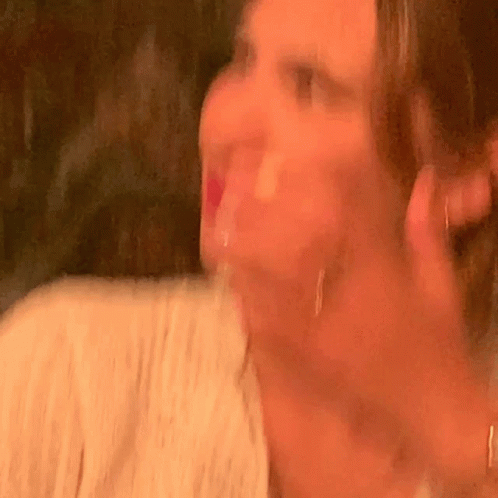 I need a drink!
with mixologist Stine Momo Agerbæk
Today's winner has a favourite post-race celebratory drink! After smashing that hellish hard sprint Mads P got himself an ice cold can of Faxe Kondi.
The soda is a Danish invention, has been produced since 1971, has a classic sweet lemon-lime taste, contains glucose, and comes wrapped in a retro-ish multicoloured design, kinda like Lidl-Trek. Faxe is the brewery and Kondi is DK slang for "fitness/aerobic condition", and the brand sponsored Danish premier league football for years, so since its inception it's been the sportiest choice in the soft-drink aisle!
You can read about it here.
Mads P got his "Faxe Kondi on" today and if you can find one, I recommend you do the same. If not, a Sprite type soda will do, but it's unlikely to fuel you a stage win. Sorry.
If you wanna drown your sorrows (over Cav's crash, Laporte's mechanical messing with Wout's sprint, or maybe Torstein Træen's abysmal lack of luck in his first Tour…), today's winner has your back as well.
At the Lidl-Trek launch the man they call Mads (no last name needed) basically promised Twitter to both enhance Lidl's selection of beverages with nothing but the best (if by best, you mean Bacardi Breezers) and to down one on the podium once he'd won a few stages. I know this is only stage won, but it can't hurt to stock up in advance, can it?
(Every warning possible applies to the act of imbibing on colourful alcopops, so this drink suggestion is absolutely voluntary!)
Vive la Lanterne Rouge
Vive AXEL ZINGLE!
Yes, our occasional contributor, Cofidis rider Axel Zingle, was the final rider to cross the line today. He finished in 170th place, after the retirements of Mark Cavendish and Stef Cras took the total number of abandonments up to 6.
We are actually, quite literally this time (honest!), waiting to see how he feels about this lauded position, so while we wait, let's learn three facts about the young Cofidis man:
Axel started out his cycling life as a mountainbiker, and won medals in junior events at the 2016 European cross country Championships.
He hails from Mulhouse, a town near the German and Swiss borders.
Cycling wasn't his first sporting love - his father is a ski instructor, and taught Axel to ski as a child.
LE RAVITO
noun: the refuelling
Features to enhance your Tour experience, and refresh your mind after a long day's cycling viewing.
Stat du Jour
by Sam Mould
Today's profile started out looking much like how we left off yesterday, but with the climbing stacked in the latter part of the stage.
I was quite surprised to discover that the stage still actually had a total of 1,938m of elevation gained.
For today's stage winner height comparison, we are looking at Côte de Masmont, which at 353m is 197.21 Mads Pedersens.
Bands of Brothers
There are 27 nations represented at this year's Tour, and coincidentally, 21 of them have two or more riders. Each day, we'll take a look at a different nation, evaluate their chances of success, throw in a random fact or two, and add to our 'National Standings' chart to see if numerical advantage translates to more stage wins. Dedicated to Justdiggit, Gino's charity of choice - the charity have set up a specific project in Gino's memory - please consider donating to them, during the Tour.
STAGE 8 - DENMARK
Denmark. An extremely flat Scandinavian nation, famous for Lego, bacon and having a ridiculously complicated language. It's also the sixth most populous nation in the Tour de France peloton this year, with 11 riders, and they add to their haul on our national standings table today with the stage win of Mads Pedersen.
The Danes have been a force in cycling for a long time, but in the last few years they've begun to feature more and more prominently, with riders of all kinds coming to the fore. There are four Tour de France stage winners among this year's crop of Danes (Magnus Cort, Mads Pedersen, Jonas Vingegaard and Soren Kragh Andersen) and of course, the defending champion himself.
So while five nations boast greater numbers than Denmark, they are likely to be disproportionately represented in our final table.
There are support riders too among the number, but even they are on another level - Mikkel Bjerg has been the engine for a great deal of the driving on the front taken up by UAE Team Emirates so far this Tour, and his ability to suffer is on another level - either that or he's just really good at kidding us with his epic pain face. Two more Danes who are riding in support roles: the nicest guy in cycling, Christopher Juul-Jensen (Team Jayco-Alula) and lead-out extraordinaire Michael Mørkøv (Soudal-QuickStep). These guys just do things better.
There's one more GC contender to consider - Lidl-Trek's second Dane, Mattias Skjelmose, who won the Tour de Suisse last month and is riding into some serious form. He's determined, fearless and unforgiving in his racing style and is just a breath of fresh air to watch.
Two of our Tour favourite team Uno-X also hail from Denmark - Jonas Gregaard and Anton Charmig - both of whom could be in with a shot, if and when breakaway days ever become a thing. Kasper Asgreen (Soudal-QuickStep) may have his day too, if he can string together a run of luck and make it into a break that goes the distance.
With Mads taking a stage win and Jonas in yellow, the gauntlet has been thrown down for the rest of the Danes to put on a show. We're looking at you, Magnus Cort.
NATIONAL STANDINGS
Pardon my French
avec Mathieu Fraisse
STAGE 8
Sprinters day? Breakaway day? This stage was classified as 'hilly' in the Tour de France roadbook. Only 3 hills to climb and they don't look too hard, but two of them are in the last 15 kilometers of the stage… 👀 this is today's French expression:
Casse-pattes | kas pat
Literally, breaking legs.
A parcours is 'casse-pattes' when there's a succession of small hills in a short time, the tempo is always changing and your legs hurt by constantly relaunching your effort.
E.g. : Tous les sprinters n'ont pas pu survivre à cette fin d'étape casse-pattes
Not all sprinters were able to survive the 'casse-pattes' end of the stage
Famous 'casse-pattes' races are the Flanders and Ardennes classics. Riders are always going up and down and you have to be in great shape to survive for more than 200 kilometres.
The expression is literally 'casse' (break) and 'pattes' (informal for legs), you can easily understand the pain caused by this type of parcours. 🦿
It's only logical for Classics riders like Wout van Aert and Mads Pedersen to fare well on this type of parcours. Chapeau to Mads P for breaking the legs of this expression, what a sprint! Bionic legs!
More 'casse-pattes' stages at the Tour de France? HELL YES! We're entering Massif Central and we'll get plenty of 'casse-pattes' action on Tuesday and Thursday 🥵
YéYé, c'est Le Tour de France 2023
with DJ Momo
I opted for spending the day on the beach, but made it home for the sprint… and sadness.
23: My Happy Ending - Avril Lavigne
Cav… Sob! I wanted a happy ending today, but… yeah. Heart-breaking. Simply that.
24: Four in a Row - Mark Knopfler
Today's victory means that Mads Pedersen has now won a stage in 4 consecutive Grand Tours. On to the Vuelta?
25: Faxe Kondi - Klumben & Raske Penge
In the post-race interview with DK TV2, Mads came with a suggestion for his post-race drink brand of choice… There's absolutely room for a Faxe Kondi logo on his helmet, and if I was the CEO of Faxe, I'd have made it happen already. The multi-coloured stripy band of the soda would be a fun addition to the rainbow bands on his sleeves. But until that happens, I'll have to make do with a sun-drenched Danish Dancehall celebration of the brawniest Dane in the peloton!
BRIC-À-BRAC
def: The bits and bobs, the shiny things, the small treasures that would otherwise go unnoticed.
Rider doing something they're not supposed to be doing of the day
I'm going to show incredible restraint by not simply stating 'Mark Cavendish crashing out' and leaving it at that. We've covered that though, and though Fred Wright shouldn't have been swearing on a live broadcast (according to, er, British people) it's not going to be him either.
Let's attempt to inject some levity here, and rewind to yesterday, when a rider most definitely did something they weren't supposed to be doing: Alberto Bettiol, demanding the return of the world's most famous work of art to Italy, as he meets the French President.
Tweets of the Day
OK, it's not a Tweet of THIS day, but we haven't featured it yet, and today, it becomes extremely relevant.
If you haven't seen this video yet, I urge you to watch it - and laugh as you picture poor Anders Mielke from GCN sitting in the tattoo artist's chair...
And because we all need it, a positive spin on today's heartbreak for Mark Cavendish. This is an astonishing statistic.
The Ultimate Question
Mark Cavendish in the rainbow jersey being led out on the Champs Elysee by Bradley Wiggins in yellow is my first memory of cycling, and it was the reason I started watching the sport in the first place.
What first brought you to the sport?
Photo competition
Are you visiting a stage of Le Tour this year? If so, this is your chance not only to show your photography skills to the world, but also to win a prize courtesy of Jen's Cycling Art. Just drop me a message and send across your best shots, and those selected will feature in a gallery of the day's best photography. Spread the word and get those cameras honed and ready!
---
💡
If you have enjoyed reading this post and would like to show your support for my free cycling content, consider
buying me a coffee.
And if you'd like to hear from me more regularly
subscribe
.