The Tour de France, ladies and gentleman. There's just something about it that draws storylines out that just couldn't happen anywhere else. Yesterday, twin brothers battled for victory, and today, a rider from a French team suffering the longest drought of any raised his arms and defied all the odds in doing so.
It's a beautiful, unique sporting occasion that brings out the best in everyone. Especially Mikkel Bjerg. A quick word of praise - or perhaps caution - for the Dane who spent probably around 70% of the day riding an insane tempo at the front of the bunch, prompting me to wonder (a) what on earth did he have for breakfast and (b) an employee who works that hard is definitely due a bonus (maybe even a burger)? Yes, both my questions are food-related, as is much of the content of this newsletter, make of that what you will. Anyway, on with the content!
We are working hard to keep you all entertained and informed, and we really hope you enjoy what you read. If you'd like to support the site at any point you can buy us a coffee, head to the writebikerepeat.com shop (LAUNCHING SOON!) to have a browse and pick up an item or two, or subscribe as a free or paying member of the writebikerepeat crew. We'd love to have you on board.
LE MENU
PRÉPAREZ VOS MUSETTES!
def: prepare your musettes!
Cuisine du Jour
Stage 3 – Amorebieta-Etxano – Bayonne (187.4km, flat)
Bayonne may be a 'chocolate capital,' but though it will be a sweet day for the sprinters to get their just desserts (yes, I will be leaning heavily into the puns in this segment), it's the local ham that best symbolises today's stage. The 'jambon de Kintoa' is a ham that is cured for more than 2 years – probably about the length of time it took for the Basque region to plan their Grand Depart. And the connection continues – the ham comes from Basque pigs.
The pigs are truly free range and not only that, they graze on the natural offerings of the region, roaming in the Vallée des Aldudes in the Pyrenees, consuming the fruits of the very ground the riders will traverse on tomorrow's stage. The ham is cured with salt and spices, including the region's famous Piment d'Espelette.
So the ham combines the best of the two areas in a place with both Basque and French identity, two places in which cycling is close to the heart. And it's a savoury twist for today's dish, and of course rather meaty, like the sprinters who will likely do battle for the stage win. (Yes, once again it's a bit tenuous). Will Cavendish open his account early and strike up win number 35?
Lena's Amuse Bouche
Stage 3 - Basque/Euskara
Languages are interesting and often in some way or another related to one another. We've all heard how French, Spanish and a slew of other languages are "descended" from Latin. And having spent an ungodly amount of years learning Latin at school, it's true - it actually really helps with understanding and learning the daughters.
Don't get me wrong you still have to do all the boring language-learning stuff but especially things like grammar are easier and oftentimes you can guess words which are different but have a somewhat constant root.
I once had a fun time reading old English and for the first moments I didn't understand a thing. Then I read it aloud for whatever reason and it didn't become understandable per se, but I definitely got its relation to the Germanic language family and I recognized some words.
Usually our languages have some siblings, aunts and parents.
Funnily enough (or not), Basque or Euskara is the name of the language spoken by basque speakers. There are quite a few hypotheses to which language group it could be related but some are maybe more realistic than others.
Basque remains an isolated language.
European languages usually fall either into the Indo-Germanic group (Greek, Latvian, German, Urdu, Russian, Italian …), the Uralic group (Hungarian, Finnish, Sami …) or the Semitic group (Maltese, Arabic …). Basque doesn't share any of these roots.
It's a bit difficult with Basque; we don't really know its parent, since not much written proof exists.
There is a connection with the Aquitainen language spoken on both sides of the Pyrenees before the Roman conquest. However only 500 words of that language can be found today, mostly on tomb stones.
The whole name 'Basques' is an outside word. It seems to be from the Latin word Vascones. The Basques call themselves Euskaldunak.
Today Basque is once again taught in schools, however during the Franco dictatorship it was forbidden to speak Basque in any official capacity. He forbade basque schools and media and tried to stamp out basque identity.
Despite Basque being allowed as an official language since 1975. It took a further ten years until programs where set up to support the language in public capacity and help adults learn it.
APRÈS L'EFFORT, LE RÉCONFORT
def: after the effort, the comfort
Taking a sideways look back at the day's action, to reflect, reconcile and remember
Speedy Stage Takeaway
The day, in 'number of times Pogi flicks the elbow at Jonas, only for Jonas to shake his head' = 1.
In a day and age where the scientific anomaly known as Pogacar exists, the 'equal and opposite reaction' in the Tour de France GC rivalry that is Jonas Vingegaard is required for many reasons, not least that the GC battle isn't over and done with after about 45 minutes.
Pogi is exuberant, and we love him for it. After two days in the Basque country, the GC standings already don't look ALL that weird - in short, you wouldn't be surprised if I told you they were the standings after stage 9. Or stage 14. That's not all Pog's fault: the challenging course design has tempted the main players into early action - but Vingegaard's refusal to play the game has provided a necessary counterweight to UAE's turbo-charged tirade, and the GC outsiders live to fight another day.
EMOJI RECAP by Anna McEwen
If you missed any of today's stage, our resident visual chronicler has compiled this handy guide.
I also attempted to channel the mood of the Cofidis fans, on a day when they enjoyed their first Tour stage win in 15 years...
I'd like a word
STAGE 2: FRENCH JUBILATION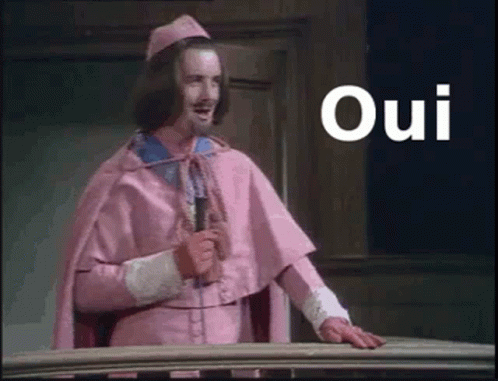 I need a drink!
with mixologist Stine Momo Agerbæk
To be honest I probably need several, because the amount of straight-to-Netflix dramatic hot takes for this race is already getting a little tough to stomach and I need to wash it down with something.

Yes. I'm starring in the role of the snarky bartender at the local joint in this show.

So to fulfil the other part of that job description, time for some drinks!
There'll be a few suggestions, two of them in the same pale/white colours as seemingly HALF the jerseys in the current peloton, and a quick final suggestion to commemorate a brilliant example of my very favourite racecraft moments; a successful execution of the classic 1k Finisseur move, here done to a T by Victor Lafay! So sit down, have a drink, and let me tell you why calling a race won by stage 2 is… well, a choice!

Basque Bellini Sangria
Sangria is the ultimate Spanish summer tipple, but we're in the Basque country here, not Spain-Spain, and I've always felt the traditional red wine approach was a little too heavy and headache-inducing for most warm summer days.

This one uses the Basque bubbly called Txakolina/Txakoli, and is a fun mix on yet another Italian classic, the decadent bubbly brunch darling Bellini (white peach puré and spumante/prosecco) and a traditional Sangria, but brighter, crisper, while still summery, fragrant and lightly fizzy. Similar to how Powless in Polkadots makes me feel. Joyful.
If you can't get your hands on a Txakolina, either go for the crisp citrus/salinity you find in most Vinho Verde, or a really dry and acid-forward sparkling wine, preferably one with citrus & peach/apricot notes and not too many bubbles.

You can find the recipe for the Basque Bellini Sangia here.

San Sebastian Cocktail
After enjoying the fun, flirty start to the stage, we hit the Jaizkibel, which requires something a lot stronger.
It is one of the few cocktails I regularly make that mixes gin and white rum. Both because Long Island Iced Teas are NOT something I think anyone should make a habit of mixing… and because I don't really like the to-me distinct sweet taste of sugarcane spirits. But a little goes a long way here, just please use a rum that isn't too heavy on the nailpolish remover notes. No amount of gin can remedy that.
It always felt like a mix of a White Lady and a classic Daquiri, but with the grapefruit giving it something extra - without steering it towards Salty Dog territory.
And the addition of the more robust taste of rum in the classic gin/citrus combination feels a bit like Wout van Aert hanging out with yet another group of sub-67kg climbers in the finale.
And you can argue that it has a sufficiently sour taste to match his disappointment after being jumped in the finale.
OH LALA LAFAY
He's from Lyon. It's considered the capital of French Cuisine (it was Paul Bocuse's birthplace) and it's smack-dash in the middle of several big red wine regions too.
And a red wine between the two mostly-white drinks is a nice parallel to the Cofidis jersey.
It's not Beaujolais nouveau season, so I'd probably just go for something Côtes du Rhône instead, I feel like the Grenache heavy style is perfectly sweet, juicy and spicy for a stage win like today.
Bottoms up, see you tomorrow!
Vive la Lanterne Rouge
Vive JASPER DE BUYST!
That's two in two for Lotto-DSTNY - perhaps they're going for a record?
De Buyst didn't have the best of days, coming down in a collision with his team mate Maxim van Gils, but how did he feel about being the 174th rider to cross the line? While we wait to hear from him, here are three fun facts about the Belgian lead-out specialist:
He's a track rider too, and is a specialist at six-day races, having won the Ghent six day race in 2013 and 2014
He's a loyal servant at Lotto, having been with the team since 2015
While he's currently Caleb Ewan's best pal, leading out the Australian being his primary role, the person he enjoys spending time with the most is Bert van Lerberghe, who he's shared 104 race days with (though Guillaume van Keirsbulck might feel left out if he isn't mentioned, having ridden alongside De Buyst for 103 days).
LE RAVITO
noun: the refuelling
Features to enhance your Tour experience, and refresh your mind after a long day's cycling viewing
Stat du Jour
by Sam Mould
So today was the longest stage of this years tour, but just how long was it?
It had been commented that this is the shortest "longest stage" in the history of the Tour. While it is well know that in the early days, the stages were significantly longer, I was surprised to find that you only had to wait until the 3rd edition in 1905 to find a shorter stage. This however was not repeated for another 29 years until 1925.
Looking over every stage of the Tour, today's longest stage comes in at joint 929th place for its length in the history of the Tour.
In the little section where I look at the highest point on the stage measured in stage winners, today's peak was the Côte d'Aztiria at 572m or 323.16 Victor Lafays.
Bands of Brothers
There are 27 nations represented at this year's Tour, and coincidentally, 21 of them have two or more riders. Each day, we'll take a look at a different nation, evaluate their chances of success and throw in a random fact or two, and add to our 'National Standings' chart to see if numerical advantage translates to more stage wins.
Gino's charity of choice, Justdiggit, have set up a specific project in Gino's memory - please consider donating to them, during the Tour.
STAGE 2: UNITED STATES OF AMERICA
One of the most valiant rides on today's stage came from the current King of the Mountains Neilson Powless, who took his polka dot jersey for a jaunt in the day's early break, and continued on solo up to Jaizkibel where he was eventually caught, but not before racking up enough points to ensure he'd carry the jersey into stage 3.
He is not alone - the US have been gradually strengthening their representation within the peloton, and they bring 6 riders to this year's Tour, including the new national champion, Quinn Simmons (Lidl-Trek). Simmons was a big presence at last year's race and will be keen to go for stages alongside riding in support of the team's GC interests. He also holds the honour of being the youngest rider at this year's race.
Sepp Kuss is probably the best known of the peloton's Americans. Jumbo-Visma's loyal mountain domestique has evolved into one of the most experienced and well-respected riders in the peloton. This is his fourth Tour. He's not the eldest of the US nationals at the race though, that honour falls to Lawson Craddock (Team Jayco-Alula), who is part of Simon Yates' support squad.
The final two are also 'young Americans'. Like his compatriot Simmons, Team dsm-firmenich's Kevin Vermaerke is 22, and he too rides his second Tour, as part of leader Romain Bardet's climbing detail.
The final member of the club is 24-year-old Matteo Jorgenson. Like Powless, Jorgenson made waves in the spring Classics and proved that he was an excellent all-rounder too, winning the Tour of Oman and coming second at the Tour de Romandie.
Whichever way you slice it, the USA's stock is rising within the cycling world, and they have a real chance of success at this year's race. Let's see how they stack up in our national standings.
NATIONAL STANDINGS
Pardon my French
avec Mathieu Fraisse
STAGE 2
Sometimes, segments just write themselves. Today's French expression illustrates one of the greatest ways to win a bike race.
Coup du kilomètre | ku dy kilɔmɛtʁ
'An attack under the Flamme Rouge to surprise the other riders.'
e.g. : Victor Lafay gagne la 2e étape en faisant le coup du kilomètre
Victor Lafay wins stage 2 by doing the 'coup du kilomètre'
Most famous 'coup du kilomètre' at the Tour de France?
Let's rewind back to stage 3 of 2007 TDF, when Swiss legend Fabian Cancellara attacked under the Flamme Rouge to surprise the likes of top sprinters Erik Zabel, Danilo Napolitano and Tom Boonen. Oh, and he did it with the yellow jersey on his shoulders! Just a regular day at the office for Spartacus.
This tells you how tough a 'coup du kilomètre' is. A rare prowess mixed with Cofidis ending a 15-year winning drought on TDF roads, making Victor Lafay's win even more amazing 😍
Uno-X Watch
After yesterday's busy breakaway day for Jonas Gregaard, things were a little quieter on the Norwegian front today, though they were spotted driving the pace for a while late in the stage.
Less great news for the team's de facto GC leader Torstein Træen who took to the stage start despite a fractured elbow. He finished the stage, so let's hope he is feeling better tomorrow - though it doesn't bode well.
Another good option for the team on GC, Tobias Johannessen, is currently their best-placed GC rider, sitting at 34th on GC, 3.08 back from leader Adam Yates.
BRIC-À-BRAC
def: The bits and bobs, the shiny things, the small treasures that would otherwise go unnoticed.
Photo competition
Are you visiting a stage of Le Tour this year? If so, this is your chance not only to show your photography skills to the world, but also to win a prize courtesy of Jen's Cycling Art. Just drop me a message and send across your best shots, and those selected will feature in a gallery of the day's best photography. Spread the word and get those cameras honed and ready!
Rider doing something they're not supposed to be doing of the day
While it was tempting to choose Victor Lafay as the SECOND climby Frenchman to beat Wout van Aert in a sprint (after David Gaudu at last year's Critérium du Dauphiné), ESPECIALLY given Lafay was third in the exact same sprint (I know, right?!) I felt the need to share the love, so instead, here's this cute moment from the Groupama-FDJ bus, where Thibaut Pinot dishes out the dossards (full reel on Groupama's Instagram).
Tweets of the Day
Oh, Twitter. How you continue to tease and frustrate us. It was back, and then it wasn't. We could react but not view timelines, Tweet but not DM, then we could do EVERYTHING, now we can do nothing. Safe to say that once again, there's not much I can offer you due to 'rate limitations', but I cannot let the day pass without drawing attention to this legendary post from Intermarche-Circus-Wanty's social media person, in reference to the whole debacle.
The Ultimate Question
Two days down, and we've had a battle of the brothers, an American in polka dots, an early hint at the GC battle to come, and a big ole French-shaped surprise package.
Tomorrow should perhaps be a quieter day, with a bunch sprint on the cards, so why not spend the day reminiscing - on a day in which many French fans will have made new memories that will last a lifetime - what's your favourite ever Tour de France memory? Feel free to comment below, or let us know over on social media - if it's working!
---
💡
If you have enjoyed reading this post and would like to show your support for my free cycling content, consider
buying me a coffee.
And if you'd like to hear from me more regularly
subscribe
.