And just like that, we were in France.
It's been a particularly challenging opening couple of days to this year's Tour de France, and while it's been fun to watch, completely unpredictable and ultimately pretty satisfying in terms of interesting narratives, just as we must at every Grand Tour, we've had our fair share of the rough to endure, along with the smooth.
We've lost two riders from the race - both key men for their teams and rated in the list of GC favourites - and a few more are carrying bumps and bruises. Such is cycling. There have been very few accidents so far, though more could have been avoided if the more unsavoury characters who chose to scatter sections of road with thumb tacks could have, I don't know, just not done that? Visual proof was provided courtesy of Lilian Calmejane's Twitter, and other first-hand accounts, and today it seemed suspect when both Rui Costa and Alexey Lutsenko suffered punctures within a few metres of one another - it's yet to be confirmed if those punctures were a result of said tacks.
And there has been an uncharacteristically high amount of mud-slinging, even so far as Belgian media and cycling Twitter goes, and almost all aimed in the general direction of Jonas Vingegaard, for not pulling for Wout in the final kilometre of yesterday's stage, and for not racing with Pogacar to the finish, despite the urging of the exuberant Slovenian.
So, deep breath. It's stage 3. Things could have been worse, and there's plenty of time. For racing, for analysis, and for a little patience and understanding, whether it be about riders motives for being angry, not being where they were supposed to be, or not following the script many people expected. Let's just... see what happens?
We are working hard to keep you all entertained and informed, and we really hope you enjoy what you read. If you'd like to support the site at any point you can buy us a coffee, head to the writebikerepeat.com shop to have a browse and pick up an item or two, or subscribe as a free or paying member of the writebikerepeat crew. We'd love to have you on board.
LE MENU
PRÉPAREZ VOS MUSETTES!
def: prepare your musettes!
Cuisine du Jour
Stage 4 – Dax – Nogaro (181.8km, flat)
Shifting seamlessly from Spain into France, the transition from the Basque Grand Depart to traditional Tour de France territory is much smoother than last year's transition from Denmark. The race travels to the south-west of France and Les Landes region for another flat stage, and this time instead of pretend, Basque country-style flat, with five categorised climbs, it's true, old-fashioned flat, with the only categorised climb so far on in the stage that even Neilson Powless might consider opting for a day safely tucked up in the bunch.
It's going to be another long day in saddle but it's also another chance to rest and conserve energy, and if the riders are feeling a little tired after the exertions of the opening few stages, may I recommend for them a hearty, warming garbure, local to the Landes region, to build their strength back up.
Literally described as a 'fortifying stew', the dish is part of the culinary heritage of the Landes. The ingredients include vegetables (cabbage, grain beans, broad beans, potatoes, celery, turnips, carrots) and duck or pork, all of which is simmered for many hours.
It's a meal to refuel, and seeing as the riders will be simmering for many hours in their saddles on tomorrow's stage, it's likely they will need it.
APRÈS L'EFFORT, LE RÉCONFORT
def: after the effort, the comfort
Taking a sideways look back at the day's action, to reflect, reconcile and remember.
Speedy Stage Takeaway
It's not easy handling pressure at the best of times, but when the pressure is coming from all sides, and it's at the Tour de France, one could probably be forgiven for curling up into a ball and having a little cry under a blanket.
The pros are made of sterner stuff that than though, and sprinters are famous for thriving in the pressure cooker of the bunch dash, but it was quite something to see just how many people, both fans and pundits, predicted Jasper Philipsen as the winner of today's stage.
It's not surprising really - the Belgian has been in great form all season and looks to have truly banished the demons of 2021 - but given the calibre of his opposition, it was still pretty impressive how completely he dominated the pre-stage coverage, at least in terms of being the favourite.
And boy, did he deliver. The jury delibaration afterwards over a potential deviation would also have been enough to give a guy some serious jitters but unperturbed, Philipsen held his nerve and stepped onto the top step of the podium to become the first fast man to take a stage at the 2023 Tour.
But this isn't a very speedy summary, so over to the much more succinct and visually gifted Anna McEwen to provide a handy emoji recap to summarise the events of stage 3.
And a list because who doesn't love a list!
5 TAKEAWAYS FROM STAGE 3:
Neilson Powless did the polka dots proud. He is a joyful human; only nice things for him please
On that note, that's two years in a row that EF have revelled in celebratory polka dot jaunts on stages 1-3, after Magnus Cort did the same in his homeland last year
Victor Lafay is a smooth operator
Lidl-Trek were once again the most well organised team at the intermediate sprint
Tim Declercq reasserted his tractor authority, having been challenged yesterday by the younger, turbo model (Mikkel Bjerg)
I'd like a word
(where the number of words in the stage report matches the number of the stage!)
STAGE 3: DISPATCH THE DISASTER
(because he got rid of the name, both figuratively and metaphorically, by being dispatched, by his lead-out man, and also because alliteration and also it's the name of this bulletin... yeah it's not so fun when I explain it all I guess OH LOOK A GIF!)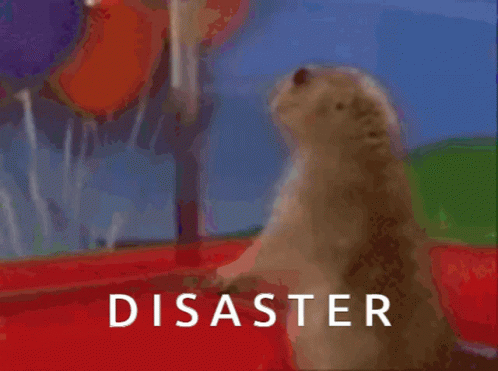 I need a drink!
with mixologist Stine Momo Agerbæk
After yesterday's post-race hijinks (perfect for future Netflix seasons?) I think we could all use a little calm comfort as well as a refreshing beverage, since the riders seem to be leaving the relatively cooler temperatures of the last two stages behind.
Bayonne is famous for its chocolate industry, so guess a cup of hot chocolate is in order. Or maybe a glass of chocolate milk if it's too hot where you are. Either way, it's one of life's small joys and hard to knock as an everyday choice for the Monday after Belgian and Danish cycling experts exploded into a reverse remake of last year's trite "Wout should have helped Jonas" debate. Thankfully the two protagonists in the story seemed a lot more chill about it all than everyone else once the dust had settled.

And speaking of chill…
Since the race is leaving Spain today, but staying in the Basque country, it feels like my last chance to include what's probably my preferred version of one of my favourite long drinks…
GIN TONICA

The "Spanish style G&T" aka "Gin, tonic and everything plus the kitchen sink in a goldfish bowl" is such an easy and fun way to give the refreshing classic a personal, creative and seasonal makeover.
It's not that complex; a huge wine glass (the oversized Burgundy style bowls or those actually named "g&t glasses" gives you plenty of room), a bunch of ice, some gin of your choice, tonic (if you only splurge of one of the parts, make it a good tonic!) and a selection of sliced fruits, herbs, spices and curiosities as decoration/tasty additions.
You can read a bit more and find something resembling a recipe here.

And yes, I will take a cheap gin & fancy tonic version over the opposite one any day. Some cheap tonic versions drown out everything else, making the drink taste like… that particular cheap tonic. But if you like that, I'm not gonna stop you. Just… please don't add it to a really nuanced craft gin then.

Classics are citrus, juniper berries, red berries, thyme/rosemary, cucumber, peppercorns, cardamom pods, star anise, sliced ginger etc.
My slightly more offbeat favourite additions are nectarine slices, fresh figs, frozen lingonberries, lemon thyme or similar citrusy herbs, kaffir leaves, coffee beans (seriously, try it!), edible flowers or aromatic cherry tomatoes (yes, really). Obviously not all at the same time, though I wouldn't be surprised if it ended up still working. So, feel free to be creative.
Let me know if you invent a particular inspired version? And cheers!
Axel Zingle's What3Words
Our very special guest for this year's Tour, the Cofidis rider will occasionally provide impressions of the day's action, distilled down into just three words.
It was great to hear from him after yesterday's team victory with Victor Lafay, when his three words of choice were:
'ECSTATIC / AMAZED / ON THE MOON'
(we'll let him off with that one)
Vive la Lanterne Rouge
Vive YEVGENIY FEDOROV!
With the team very much at the business end of proceedings in service of Caleb Ewan, it was not to be a Lotto-DSTNY hat-trick of last places (though Jasper de Buyst did attempt a repeat coming in 165th).
Instead the reigning U23 World Champion takes the honours today, and while we wait to hear how he's taking his new-found fame, let's find out a little more about him.
Yevgeniy is a qualified airline pilot but he doesn't use his license as he's afraid of heights
He collects ceramics dolphin and is a black belt in jujitsu
He's a die-hard Taylor Swift fan, and has tickets to every single European show on her Eras Tour. He's thus ruled himself out of both Giro and Tour next year
Aaaand of course none of those things are true - well, we assume they are not. But despite extensive research (Googling for ten minutes) information about the young Kazakh rider is devilishly hard to come by. If anyone knows anything interesting AND true about him, please feel free to drop us a message and we'll share in tomorrow's Dispatch.
LE RAVITO
noun: the refuelling
Features to enhance your Tour experience, and refresh your mind after a long day's cycling viewing
Stat du Jour
by Sam Mould
Mark Cavendish has said that in his final year as a pro he isn't taking a pedal revolution for granted.  Which got me thinking, how many revolutions does it take to complete the Tour de France?
So, looking at last year's Tour, the course was 3328km in total and they completed it with an average speed of 41.48kph.
Today's 'highest point on the stage measured in stage winners,' was Côte de Trabakua. At 369m tall, it is 209.66 Jasper "Disaster" Philipsens tall.

Bands of Brothers
There are 27 nations represented at this year's Tour, and coincidentally, 21 of them have two or more riders. Each day, we'll take a look at a different nation, evaluate their chances of success and throw in a random fact or two, and add to our 'National Standings' chart to see if numerical advantage translates to more stage wins.
In support of Justdiggit, Gino's charity of choice.
STAGE 3: FRANCE
OK, I'm going there: the big one. The home nation, and perhaps unsurprisingly, the nation most represented in terms of numbers, with 32 riders on the start list this year, meaning the French comprise 18% of the total riders at the Tour.
It's been a great first week for the French, as the home faithful's perennial hopes for their nation have already been satisfied with a stage win, and three men in the top ten on GC, along with a long stint in the breakaway today for the oldest of the compatriots, Arkea-Samsic's Laurent Pichon, as the race traversed from the Basque Country onto home soil for the first time this year.
Much as I'd love to, I don't have the time to do a deep dive on ALL of the French riders at this year's race, but let's focus on just a few of them. Since Cofidis have busted the underachiever myth by actually winning a stage, let's redefine what it means to be French at Le Tour de France - to win, and be loved by a nation whilst doing it. What's the Frenchest possible way for that to happen? I offer you three options:
1.The quintessential French rider - the underachieving, loved by the masses romantic hero - is of course, Thibaut Pinot. Could anything be more French than Thibaut raising his arms on Bastille Day, to the delight of let's face it, not just a nation, but pretty much the entire cycling world (with the possible exception of Jonathan Vaughters).
2. Well, possibly Julian Alaphilippe winning on Bastille Day. The Soudal-QuickStep rider is unlikely to do that given the severity of the climbing on the fateful day, but given his turbulent form of late he'd be satisfied with success in whatever way it came at this Tour.
3. Prior to the Tour, success for a Frenchman came most recently for Groupama-FDJ's Valentin Madouas. Though he'll ride in support of David Gaudu at this Tour, Madouas was given the freedom to go for the win at Nationals after Gaudu was struck with cramp on the final climb of the day, and win he did - he now sports the stunning French tricolore and although it's unlikely he'll win a stage, simply parading the national colours around his home nation, for arguably the flagship French team, is arguably the Frenchest of all possible outcomes.
NATIONAL STANDINGS:
As you can see, the home nation have leapt to second in our national standings as a result of Lafay's success.
So here's a big ALLEZ! to all the French at this year's Tour - long may their success continue. Which segues absolutely perfectly (it had to, one day this Tour) into...
Pardon my French
avec Mathieu Fraisse
STAGE 3
SPRINTER'S DAY! After two hard days in the saddle, sprinti bois finally get their shot at a win 🥵 Today's French expression can be applied in many cycling situations but especially during sprint lead-outs.
Jouer des coudes | ʒwe de kud
Literally, playing elbows. Jostle for position in the bunch to get into the best spot possible.
Can also be called "frotter" (fʁɔte | to scrape/rub)
E.g. : L'équipe Alpecin-Deceuninck a du jouer des coudes pour assurer la victoire de Jasper Philipsen
Alpecin-Deceuninck had to jostle for position to lead Jasper Philipsen to victory
'jouer des coudes' is a science in cycling, a very tricky skill to master. Some riders can be afraid of it. Balance is key and top lead-out men such as Michael Morkov and Danny van Poppel are key to victory for their sprinter thanks to their capacity to 'enforce' the bunch and safely navigate their leader to the best spot for the final metres of a stage.
Do you like to 'jouer des coudes' or would you rather chill at the back of the peloton? Tell us in the comments section 💪
YéYé, c'est Le Tour de France 2023
A quick couple of music choices for the last two stages
7: Pa Pa Power - Dead Man's Bones
PaPa Powless Power as presented by Ryan Gosling's indie band past and the best children's choir in the US.
8: Shoot Your Shot - Jr. Walker & The All Stars
For Lafay who definitely shot his shot and joined the 1k Finisseur All Stars gang!
9: Trash Talk - Chain and The Gang + Ian Svenonius
Well, this seems like a fitting tune for the post-script of yesterday's stage.
10: The Mess We're In - PJ Harvey & Thom Yorke
The whole run-in from 15km to the sprint was just… intense. One big messy vortex of riders, in it together. I'm honestly just happy no one crashed.
11: Perfect Disaster - Drew Sycamore
Looks like Jasper is safe from the… ahem… intense judgement of his DS for now. That lil' trip to the jury before the result became official was almost a little too on brand, but today we got a happy ending to the Jasper [redacted] story!
Uno-X Watch
Ah, so close but yet so far for Uno-X's veteran sprinter Alexander Kristoff today. Despite being visible - nay, attention-grabbing - driving the pace with the other sprinter's teams on the run-in to the finale, the tricky twists and turns of the final few kilometre put Kristoff and his lead-out man Søren Wærenskjold out of position, and it wasn't to be in the end as the Norwegian missed out on his chance to fight for the win.
Another chance tomorrow for the red and orange brigade. Let's go!
BRIC-À-BRAC
def: The bits and bobs, the shiny things, the small treasures that would otherwise go unnoticed.
Photo competition
Are you visiting a stage of Le Tour this year? If so, this is your chance not only to show your photography skills to the world, but also to win a prize courtesy of Jen's Cycling Art. Just drop me a message and send across your best shots, and those selected will feature in a gallery of the day's best photography. Spread the word and get those cameras honed and ready!
Rider doing something they're not supposed to be doing of the day
It was going to be a pretty tough task to find a candidate for this segment today, given everyone pretty much stayed on script - Powless attacked early and hunted down KOM points (with 100% success), Pinchon powered on alone in an attempt to convince the jury and public to award the combativity prize to a Frenchman (with 100% success), and the sprinters, well, sprinted (also with 100% success).
But while it's tempting to say 'Jasper NOT being a disaster' for today, it felt too obvious (and besides, he hasn't been disastrous at all this season). Instead, it was down to one of Jasper's best pals, so often the saviour of a serious moment with his cheeky antics (yes I sound about 84 years old but honestly that's how old Pog makes me feel), to bring us the solution to this problem. Behold, as after stopping by to congratulate his friend, he hung around as they crowded in to analyse the final.
Tweets of the Day
Heavens be praised, there was finally some visibility on the ole bird app today but alas, it didn't offer up a great deal given (a) I was rationing my use in case of the dreaded 'rate limitations' and (b) it seems as though people were avoiding the place (don't blame them) so it was relatively slim pickings. Not that it was the most inspiring of stages.
I've chosen two Tweets today, one to honour the winner and his favourite pilot fish, and one piece of inspired, cute and quirky content creation that really made us smile in what's been a pretty acrimonious couple of days, when we have had access to social media.
The Ultimate Question
If you could see one rider doing something they weren't supposed to be doing during a stage of the Tour de France, what would it be? (Keep it clean people, this is a family show).
Comment below, or take to Twitter to tell us! (IT'S WORKING, HURRAY!)
Au revoir, folks.
---
💡
If you have enjoyed reading this post and would like to show your support for my free cycling content, consider
buying me a coffee.
And if you'd like to hear from me more regularly
subscribe
.