Welcome back to your fortnightly whistle-stop tour through the last 14 days of bike racing shenanigans.
Two weeks is a long time in cycling, especially at this time of year when there's so much racing occurring, but more importantly, when we're experiencing a significant transition - from the whirlwind aggression and all-or-nothing commitment of one-day classics to the twisting, winding narratives of stage racing and shortly, Grand Tours. This fortnight marks exactly that transition - drawing a line underneath Spring, ticking off the classics and moving swiftly on.
So what happened? Cast your minds back down the mysterious tunnel of time to 13 days ago... you can't, can you? Fine, I'll do it for you. LET'S GO!
The day before the Amstel Gold Race, Kevin Vauquelin (Arkea Samsic) won the Tour du Jura (15 Apr), although it was quite hard to tell because of the thick fog atop Mont Poupet. He was followed by two French climbing legends racing for second place – Thibaut Pinot just pipping Guillaume Martin in the end. Jesus Herrada took victory for Cofidis on the following day at the Tour de Doubs (16 Apr).
Amstel Gold Race (16 Apr)
The ladies race at Amstel was a cracker. From the point when the breakaway was caught with around 23km to go attacks came in from all directions (well, mainly going forwards, but you get my point), with all the big favourites taking a bite of the cherry and generally, it was just a really good, unpredictable race, if not with a somewhat predictable winner, on paper (Demi Vollering). The men's race also had a predictable winner, and the race went the way so many do when Tadej Pogačar is being Tadej Pogačar – with a long solo break.
I reflect on the race, and the notion of dominance in sport, and try to work out why it's tougher to bear as a viewer, than the women's equivalent.
Tour of the Alps (17-21 Apr)
It's official. The Spring Classics broke my brain.
How do I know this? I know this because when Rob Hatch introduced the final climb of stage 1 of the Tour of the Alps and said it was 'a short one, at 5.2km' I made the same face you might make when someone tells you the weekend's been cancelled. Here's Mathieu van der Poel to helpfully demonstrate: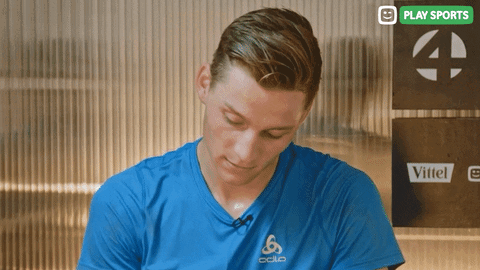 So anyway, I really had forgotten that longer climbs exist, and over the 'actually very short' one that constituted the final of stage 1 of the Tour of the Alps, the race came to life, with attacks firing in from Jack Haig, Alexander Cepeda, and Hugh Carthy, before Tao Geoghegan Hart launched his move, well protected all day by his Ineos teammates including Geraint Thomas. He kept his powder dry for long enough to overpower the rest, despite heroic efforts by the aforementioned trio who all look in strong form pre-Giro d'Italia.  
Stage 2, where the climbing was fairly relentless but the categorised climbs both came right at the end of the stage, leading to some great attacking racing. Santiago Buitrago moved away with 4.5km to go, and Ineos rallied the charge to try and close him down, Pavel Sivakov setting off in pursuit and pulling a small group with him. They shut Buitrago down and then counter-attacks were launched, and eventually a group of 12 riders, including the main GC favourites pulled clear. Cepeda attacked with 1km remaining, looking super smooth, but it all came back together again with 500m remaining.
The stage finished with a bit of a chicane which wasn't the best route planning and found out poor Felix Gall who crashed as the leading group of riders approached the line. The final stretch left Geoghegan Hart upset despite crossing the line first to win two in a row with consummate ease, his form looking extremely positive, his mood less so (he spoke afterwards about his frustration over such a potentially dangerous final so close to the Giro). Sad times for AG2R's Gall who had looked good for GC, but lost some time, though thankfully wasn't too badly hurt as a result of his crash.
Stage 3 and if the shorter climbs of the first two stages felt significant, the ante was upped yet again as the race headed into the Dolomites. The final test was a category 1 ascent of 15.5km, and the race obliged by coming to life and spreading itself all along the road, with the lone breakaway rider Joe Dombrowksi off on a solo jaunt for his Astana-Qazaqstan team, looking in his best form since the 2021 Giro d'Italia. It was not to be though: BORA-Hansgrohe's Lennard Kämna set off in pursuit, closing him down with Cepeda in sparkling form hot on his wheel. Cepeda and Kämna formed a lead duo with 3km of climbing remaining and a chasing group of the GC favourites chasing them down. Tao took matters into his own hands and tried to close the gap or at least to cement his own GC position, but he dragged the rest with him and while Kämna was able to punch clear for the win, the rest all received the same time, with Kämna's team mate Aleksandr Vlasov able to snatch a few bonus seconds, pipping the rest over the line.
Stage 4 was one for the break. A strong, organised breakaway group maintained a gap of 3-4 minutes all day. It was a fun break from the norm as the group broke up on the final climb and 19-year-old Giulio Pellizzari of Green Project-Bardiani launched an audacious solo attack, powering to what would have been a huge, unprecedented win for both himself and his team. Pulling faces of pure pain, the young man tried his luck but was soon caught by Movistar's Gregor Mühlberger and Uno-X's Torstein Træen, and the unexpected trio rode together all the way to the line, where Mühlberger was able to remain strongest to take the stage.
Simon Carr made good on a promising week by taking the final stage, and Tao Geoghegan Hart tied up the GC by 22 seconds from Carthy, with Jack Haig taking third spot another 6 seconds behind. All in all, an entertaining week of racing.
La Flèche Wallonne (19 Apr)
The little sister of the Ardennes classics with the big finish, this race has its detractors, who complain about it being all about the Mur de Huy and to be fair, they have a point – it's a bit like Milan-Sanremo in the sense that the winners come from the final ascent and very rarely do race winning moves come earlier. That being said, like MSR, it has an air of unpredictability about it that's refreshing, particularly given the current dominance of certain riders and teams.
The women's race featured a really unnecessary crash due to bad signalling, but aside from that it was a fun race, with plenty of attacking in the final stages heading into the Mur de Huy. In the end though, Demi Vollering's ascent of the climb was chillingly clinical. She remained seated while others were labouring on the pedals, and didn't even look behind her until the finish line was in sight. There were hard-earned podium spots for Liane Lippert and Gaia Realini, both of whom feature in my post about the best riders who didn't win a classic.
The men's race too came down to the MURDER WEE (yes I'm a child) despite the claims of many that Pogi would try to attack early and put the race out of sight before the final climb. Well, he still won, of course, but at least we had some moments of excitement, including the almost-but-not-quite attack from Romain Bardet, the usual uphill drag skills of Michael Woods, and a storming ride from Mattias Skjelmose Jensen to come in second, with Mikel Landa third.
Liège–Bastogne–Liège (23 Apr)
Ah, La Doyenne, the fourth of the Monuments of the year and the final one of Spring, the curtain closer on both the Ardennes classics and the Spring season as a whole. It should be a grand finale but such is the fickle nature of fate, by the time Liège rolls around I have usually lost a little of the fire in my belly in terms of connection with one-day racing and am yearning for a little more commitment, something that will keep my interest for several days, maybe even three weeks.
So it's with regret that I must admit, while I watched the final classic, I didn't feel a great connection to the racing. Here are some points I drew from it, nonetheless, alongside a short summary of the action.
-Demi Vollering is the undisputed Queen of the Ardennes. The Dutch woman completed the Ardennes triple with a powerful ride on Sunday, beating Elisa Longo Borghini in the final sprint for the line. The Italian finally looked back to her best after suffering a bout of covid earlier in the Spring, but she could not match Vollering, who took her second win at the race in three years.
-It was great to see Julian Alaphillippe. A year on from his horror crash at the same race, the Soudal-QuickStep rider looked perky in support of his team leader Remco Evenepoel and it's just always good to see him doing his thing.
-Remco Evenepoel is ridiculously powerful. After managing to distance all but Tom Pidcock, the World Champion, who made his first appearance at the Spring classics at the final possible opportunity made his final attack from a seated position, just moving away from the Brit and never looking back, with 30km to go. An outstanding display of power that proves he's in the best possible shape going into the Giro d'Italia.
That's all I've got. I'm really sorry, I'm sure they were both great races but I mentally checked out - I'm sure you will find much fuller coverage of the race at other media outlets. I am just one little human with a very busy brain. How about instead you read my piece about the heroes of the men's classics season, who gave their all but didn't take a win?
Tour of Romandie (24-30 Apr)
The Tour of the French-speaking region of Switzerland began on Monday with a teeny tiny prologue, flatter than my morning toast with just a couple of turns that didn't cause any issues – the only problem was for Intermarché's Rui Costa, whose chain snapped off on his first pedal stroke causing him to bang his knee and later, sadly, withdraw from the race.
The race is still underway as I write and has so far been hampered by numerous withdrawals. Covid-19 has struck down Astana's main GC hope Alexey Lutsenko, after Giulio Ciccone withdrew with the virus prior to the race, and the overall favourite Simon Yates withdrew abruptly shortly after the beginning of the first proper stage with stomach issues. And that's just the ones I can remember.
It's a race that was already wide open in turns of the general classification, given the absence of any major names, but with the loss of Yates it's anybody's guess who will win which is frankly nothing short of a pure delight and leaves me more invested than I might otherwise be in a stage race that falls just two short weeks prior to the Giro d'Italia.
The Prologue was won in the end by Soudal-QuickSteps' Josef Cerny, perhaps a surprise candidate for first wearer of the leader's jersey, but nonetheless the team went into stage 1 ready to control the race. Stage 1 was a tricky one to call, with a couple of category 2 climbs to split the bunch midway through the day, and a number of the sprint hopefuls were dropped at that stage leaving a thinned out group to contest the win. There was an intermediate sprint hotly contested by Tobias Foss of Jumbo-Visma, who only later discovered the sprint was for points, not bonus seconds, and he'd sprinted in vain – he took the discovery in good grace, and joked that at least he was wearing the points jersey at the time. Once over the final climb of the day, it would come down to a sprint from a slightly reduced bunch which was won in authoritative style by QuickStep's Ethan Vernon, who is growing in confidence and took over the lead from his teammate going into stage 2. He beat Thibau Nys into second, the young cyclocrosser chomping at the bit for victory, and more surprisingly, Romain Bardet, who came in 4th.
Perhaps the most fun part of the stage though was the bit where the grupetto took a wrong turn and ended up ahead of where they should have been on the course in comparison to the peloton. They were held up by a steward and all stood around for a bit looking very confused and generally quite amateur-ish, and we all had a giggle about what a silly sport this can be at times.
Stage 2 surely had no chance of living up to the excitement of stage 1 – yet it did have a go, throwing a train at a level crossing the way of the day's early break, but luckily they timed it well and didn't have to stop for long. With a couple of climbs late on in the stage there were a whole bunch of attacks and with Ethan Vernon not in the front group there was a pervasive sense of chaos which I predict will be a key feature of this race throughout (how fun!) In the end, it came down to another reduced bunch sprint, led out by none other than the recovering Egan Bernal, who handed off to Jonathan Narvaez, who expertly piloted Ethan Hayter to the line where he left it late to sprint, but took a relatively easy victory – two days, two Ethans, two wins.
Today's stage is an individual time trial – but with further bad news for GC favourites, Cofidis' Ion Izagirre has also withdrawn from the race with covid, as has his team mate Anthony Perez – it really is proving to be the ground zero race for sickness in the men's peloton this year and so close to Grand Tour season, it's not good news.
And that brings us BANG up to date. In two weeks' time we'll be in the thick of the Giro d'Italia so this post may be a bit briefer, or may not exist at all, depending on the whims of my brain. Either way, if you've found this in any way useful, informative or entertaining, feel free to show your support by signing up to the site to make sure you don't miss any of the upcoming content which includes HEAPS of Giro fun.
Bye for now!
---
💡
If you have enjoyed reading this post, why not subscribe to be notified whenever new posts go live. If you'd like to show your support for my free cycling content, consider
buying me a coffee.
And if you'd like to hear from me more regularly,
sign up for my newsletter
, delivered straight to your inbox every other week.